A NOVEL BY AUTHOR GERALD HUFF
Fall 2038. A crisis is brewing as increasingly intelligent AIs and robots replace more and more human labor, leading to high unemployment and civil unrest. While politicians and the people remain paralyzed by tribal ideologies, two competing voices emerge with radically different solutions. Sara Dhawan, a brilliant sixteen-year-old girl discovered in a small village in India, emerges onto the global stage with a compelling pro-technology message. But a darker force is emerging. A shadowy group of anti-technology terrorists determined to use any means necessary to stop our merging with and subservience to technology…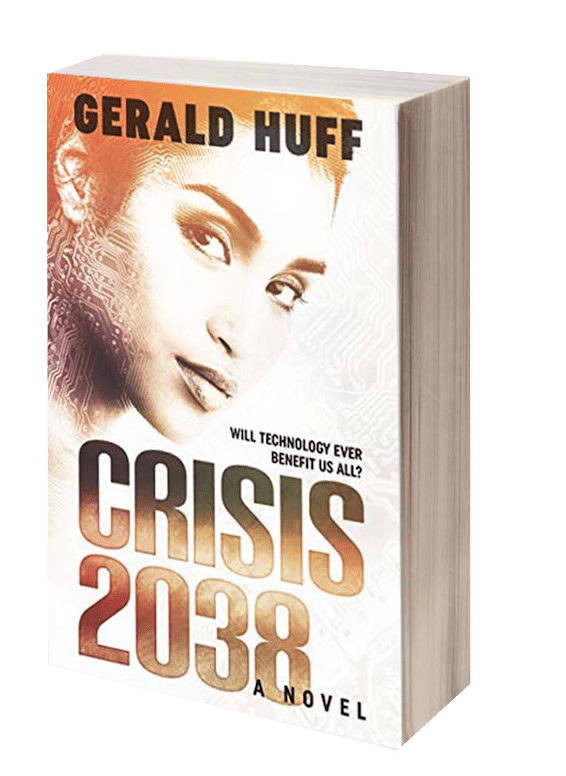 listen for free on SoundCloud
An all too realistic viewing of the path we're on and the vast importance of basic income.
This story takes place in a future United States that has not made the decisions it needed to make in the here and now. What transpires is an important warning by Gerald Huff of the kind of future we can realistically expect where due to political gridlock and corporate greed, technology continues to not be used for the benefit of all until the inevitable breaking point is reached…
Is this the future we want, and what can we do to avoid it? Read it and find out!
Universal Basic Income Advocate
CRISIS 2038 is a fascinating account of our near future. Only someone who is actively engaged in the future like Gerald Huff could have created such a detailed look at what waits us as a people and a society.
Democratic Candidate for President in 2020
You can't put the book down; then you can't stop thinking about it.
This is a unique thriller that weaves together technology's rapid growth with humanity's changing needs. No predictable beings versus bots here. Gerald Huff has written a mind-stirring, suspenseful combination of challenges and solutions while showing that thinking as usual works neither for the present nor future.
A must- read for every public official!
Former Governor of West Virginia
Gerald Huff was 54 years old when he succumbed to pancreatic cancer on November 17, 2018, seven weeks after he was diagnosed.
An ardent proponent of Universal Basic Income (UBI) as a transitional solution to the existential threat of technological unemployment, Gerald authored a techno-thriller novel, Crisis 2038, that was published the day before he died.
The Gerald Huff Fund for Humanity, a 501(c)3 non-profit organization, was established by his mother, Gisèle Huff, to promulgate his urgent message
"Will technology ever benefit us all?"